Toshiba, along with its three tablets, also introduced three new Windows 8.1 hybrid laptops dubbed Toshiba Satellite Radius, Satellite Click 2 and Satellite Click 2 Pro.
While the Satellite Radius is a multi-mode laptop, the Satellite Click 2 and Satellite Click 2 Pro are detachable or convertible laptops that can also be used as tablets.
The Toshiba Satellite Click 2 (seen above) and Satellite Click 2 Pro laptops both feature a 13.3-inch removable screen. While the Satellite Click 2 is priced at $586.99 (roughly Rs. 34,600), the Satellite Click 2 Pro costs $1,028.99 (roughly Rs. 60,700). Both hybrid laptops will be available in late June in the US.
Both Satellite Click 2 laptops devices run on Microsoft's Windows 8.1. Satellite Click 2 Pro and Satellite Radius devices' audio mechanics are tuned by Harman Kardon sound system.
The Satellite Click 2 hybrid laptop's 13.3-inch display features a 1366×768 pixel resolution. The laptop is powered by a quad-core Intel Pentium processor, features 4GB of RAM, and 500GB of inbuilt storage. The laptop's audio system is tuned by Skullcandy and DTS, and the laptop is 0.9-inches thin.
Toshiba's Satellite Click 2 Pro (seen below) sports a full-HD display and is powered by a 4th generation Intel Core processor. The Satellite Click 2 Pro also comes with a microSD card slot, Micro-HDMI and Micro-USB 2.0 ports. It additionally houses wireless display support along with Intel WiDi for sharing screen options.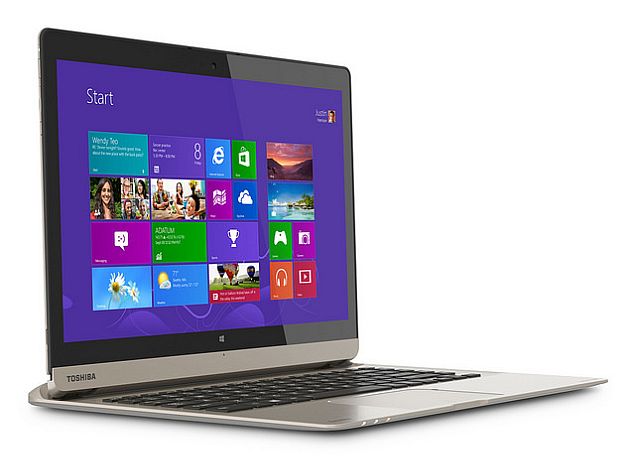 The laptop includes a front-facing HD webcam and 5-megapixels rear camera. It also comes with a 500GB storage over and above the 128GB SSD already available on the tablet.
The Satellite Radius multi-mode laptop by Toshiba costs $925.99 (roughly Rs. 54,600) and will beavailable in early-July in the US.
The laptop sports a 15.6-inch full-HD touch screen display. Running on Windows 8.1, the Satellite Radius can be used in five different modes – laptop mode (a 135-degree angle view ideal for productivity), tablet mode (360-degree screen folding into a big-screen tablet), tabletop mode (for collaboration on a screen at a 180-degree angle), presentation mode (folds to a 270 to 330-degree angle for a rear-facing screen), and audience mode (a 270 to 315-degree flip that hides the keyboard under the display).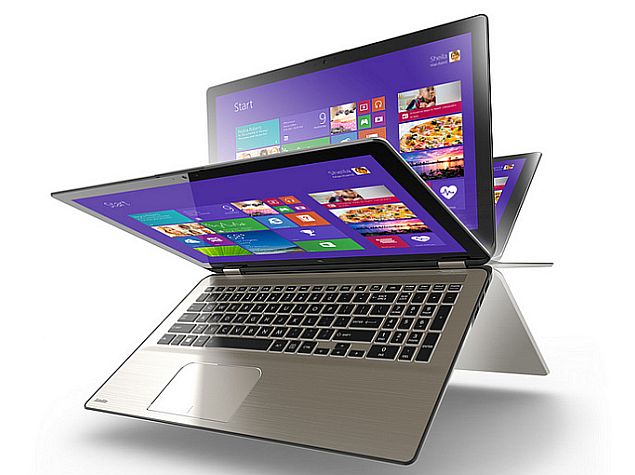 Coming in 4th generation Intel Core i5 and i7 processor variants, the Satellite Radius boasts 8GB of RAM and a massive 1TB of inbuilt storage. The multi-mode laptop houses an HD webcam with dual microphones for a better video chat experience.
The connectivity options of the Satellite Radius include USB 3.0 ports, Wi-Fi 802.11 ac and HDMI ports supporting 4K output.