Twitter has introduced a new feature for advertisers, helping them target users based on different languages. The language targeting feature is now available to all advertisers globally and through Twitter's advertisement API.
Starting Wednesday, advertisers will be able to feature their Promoted Tweets and Promoted Accounts in 20 different languages, along with the use of language-specific analytics, to help them serve users with highly relevant ads in their own language.
"Language targeting can benefit marketers who want to reach a global audience with language-specific messaging, or who are in countries where large populations speak multiple languages. For example, an advertiser who wants to Promote Tweets to Italian-speaking soccer fans during the World Cup can use Italian language targeting to reach the right users around the world," said Twitter in a blog post.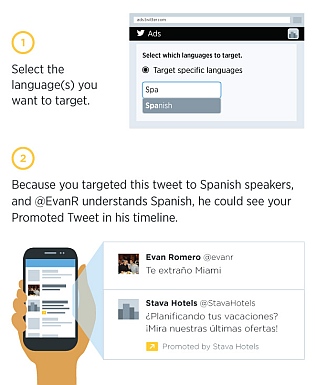 Twitter says it has kept it very simple for the advertisers, with a two-step process.
The added new feature by Twitter can be used alongside the already available targeting options for advertisers like "interests, keyword, gender, geo or tailored and audience segments."
A multilingual user can also be targeted with different languages. The feature uses different method to determine a user's language like it tracks the user's activity language, and the selected profile language, and more.
Notably on April 30, Twitter shares hit their lowest point since debut based on company-reported weak user growth. Investors were troubled by data showing the company had 255 million active monthly users in March, below the 257 million projected by Wall Street, said BMO Capital Markets.
Twitter reported a $132.4 million loss for the quarter. Investors were "unforgiving" towards the low user numbers despite "solid" results otherwise, said Deutsche Bank in a note.